General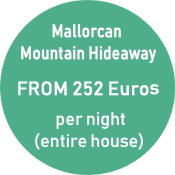 The Mallorcan Mountain Hideaway
is a rural family house located well off the tourist trail           …
Total capacity:
Sleeps 8 in 4 bedrooms (one with double bed and en suite bathroom, three with twin beds)
Bathrooms:
Things to know:
This property is in a remote location so a rental car is essential for getting around.
Be prepared for a 20+ minute drive to shops, restaurants and sandy beaches
The nearest airport is Palma de Mallorca, approximately 50 minutes' drive away
---
Located high in the Sierra de Tramuntana, a couple of kilometres outside one of Mallorca's smallest and most remote villages, this rural family home offer a true escape from modern life.
Situated on a steep sided plot, looking out to sea, the property's position is breath taking and the views spectacular. To one side are impossibly steep, pine-covered mountains, to the other, the deep blue of the Mediterranean. The grounds are extensive, much of them shaded by pines, in amongst which one finds little clearings for picnics, wooden swing sets and a custom built tree house.
This is a place to immerse oneself in nature, forget schedules or agendas and fall into the gentle rhythms of rural life.
The main house, which has been recently renovated in a rustic-chic style, sleeps up to eight. On the ground floor a large, fully-equipped kitchen adjoins the living/dining room, which has the homely feel of a well-used family room, with plenty of books, games, TV and other entertainment. Both kitchen and living room have doors opening onto the terrace where there is an outdoor dining space and a pool beyond.
Adjacent to the pool (protected with a pool safety net) a shaded chill-out area with inviting daybeds is perfectly positioned for watching the sun set into the sea.
Accommodation on the ground floor includes a master bedroom with a double bed and en suite bathroom, two further bedrooms with twin beds and the second bathroom. A big, bright playroom, kitted out with a tepee, toy kitchen, books, games and soft toys located on the level below will keep youngster entertained for hours.
Upstairs a second terrace commands outstanding sea and mountains views, and is equipped with a large gas barbecue, dining table and comfortable seating. Continuing up another flight of stairs is the tower bedroom. The ultimate room with a view, it has windows across all four walls, fully immersing its occupants in the mountain scenery.
A separate guesthouse, accommodating one couple, can be rented in addition to the main house, for larger parties. A converted barn, it is part rustic, part modern, with the original dry stone wall running down one side, a spectacular wall of glass replacing bricks and mortar at one end. The entire interior is open plan and arranged on split levels, so is only suitable for adults.
Due to the topography of the area, it is worth noting that the main house and grounds are on multiple levels, so parents will need to keep an eye on very young children. However, for adventurous families wanting to get off the beaten track and experience Mallorca's 'wilderness', it doesn't get better than this.
Check-in time
16:00
Check-out time
10:00
Minimum Stay
Please note they have a 2 night minimum booking policy for the following months:
January, February, March, April, May, November and December
Please note they have a 4 night minimum booking policy for the following months:
June, September and October
Please note they have a 6 night minimum booking policy for the following months:
July and August
Prices from
JANUARY & FEBRUARY & MARCH:
252 Euros night/house
APRIL & MAY:
276 Euros night/house
JUNE:
336 Euros per night/house
JULY & AUGUST:
450 Euros per night/house
SEPTEMBER & OCTOBER:
336 Euros per night/house
NOVEMBER & DECEMBER:
276 Euros per night/house
All prices are inclusive of pre-arrival and departure cleaning.
Please note these prices do not include an eco-tax which applies when providing accommodation with the intention to promote environmentally friendly activities and to preserve the environment (this tax is 1 Euro per person and day).
Deposits / Cancellations
A deposit of 20% of the total fee is payable upon confirmation of booking with the balance due 2 weeks before your arrival.
A refund of this deposit is permitted for cancellations prior to your arrival date as follows:
Up to 8 weeks before: 100% refund
Between 8 and 4 weeks: 50% refund
4 weeks before: 0% refund
A refundable 500 Euro damages deposit is payable 2 weeks before arrival which is refunded within 7 days from the end of your stay, subject to inspection.
Pets
Pets are not allowed.
Facilities
2 fridges
Babycook
Basic items for cooking (salt
BBQ
Coffee Machine
Dishwasher
Fans
Fireplace
Heating
Kettle
Microwave oven
Music system
oil
Outdoor pool (with safety net)
Oven
Playroom
spices)
Towels
TV
WiFi
Room 1
Master bedroom with double bed and en suite bathroom.
Room 2
Second double room with twin bed.
Room 3
Third double room with twin bed.
Room 4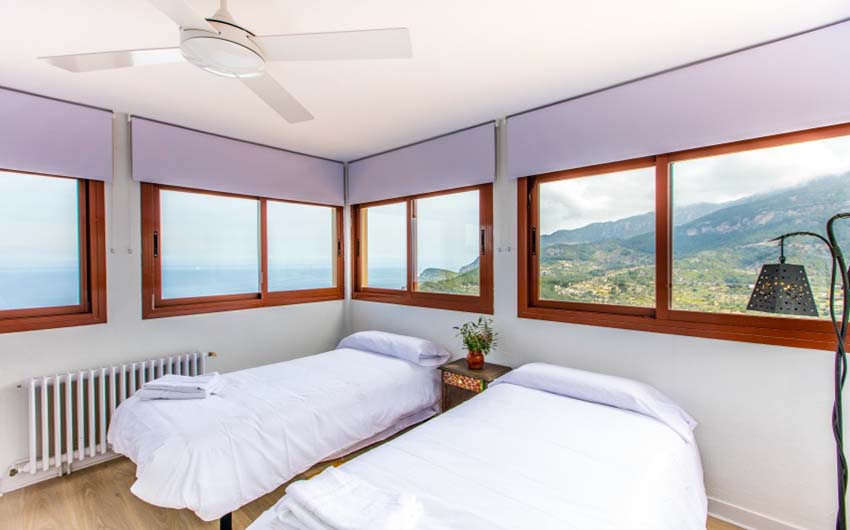 Tower bedroom with twin beds and amazing views.

2 travel cots
Baby monitor
Security bed rail


No items available

High chair
Baby Cook (4 in 1 food processor, it steams, blends, defrosts and reheats)
Kettle
Dishwasher
Baby cutlery & tableware
Bibs

Indoor toys & books
Spacious indoor play room
Outdoor pool (with safety net)
Hammocks in the garden
Set of swings in the garden
Custom made tree house ("magic place")
2 baby bouncers

Possibility to pre-order diapers and wipes on request
Toddler step

Stair gates
Fireguards
Outdoor pool has a safety net

Washing machine
Pre-arrival shopping service available on request
Babysitting available on request
Activities for kids
Outdoors
In addition to a pool and surrounding terrace outside the main house, there are hammocks strung under trees, a set of swings, a secluded picnic area and, best of all, a custom made tree house.
Indoors
Satellite TV, books and games in the living room ensure there is plenty to do indoors in the event of a rainy day, and children will likely also spend hours in their own, very spacious playroom, where there are all sorts of toys and games, almost all of which are made from wood or other natural materials. No brightly coloured plastic here!
Beaches
The closest beach, a pebble and stone beach, sits below the village. It's a 20-minute walk or a short drive. There is a small bar serving simple salads and snacks and good swimming in clear waters.
The closest sandy beaches are about half an hour's drive to the south: Sant Elm, Peguera and Camp de Mar.
San Telm& Dragonera
Dragonera is a small, uninhabited island located off the southwest corner of Mallorca. Boats from San Telm will take you over there for the day. San Telm is also a pleasant seaside village with a couple of nice sandy beaches and plenty of water's edge restaurants and ice cream shops.
Walks
It's a 20-minute walk into the village, and there are several restaurants open there in summer. From there it's a further 20-minute walk down to the beach, but with two routes to choose from you can walk down one way and up the other.
A longer (1 hour 20 mins) very easy walk, is the Volta des General, which runs between Banyalbufar and Port des Canonge, one of the few seaside villages on this coast. Start just outside Banyalbufar and it's an easy downhill walk to Port Des Canonge where not only can you cool off in the sea, but you can replenish energy at one of several restaurants, before you make your way back up the hill.
Jungle Park
The largest adventure park of its kind in Mallorca, Jungle Park is located in the shade of a nine hectare pine forest in Santa Ponsa, just 500 m from the beach. There are different courses for kids and adults, that make their way from tree to tree, using slides, bridges, ropes and zip wires. Suitable for kids aged 4 and over.
Katmandu Park
A huge theme park in the Calvia area, Katmandu Park includes a water park, soft play area, two mini-golf courses, a giant climbing frame and five floors of fun and games for older children.
Aquarium
Recreating ocean habitats and ecosystems around the world, the Palma Aquarium is a fun and educational day out. There are plenty of interactive displays and activities available, from snorkelling with rays to diving with sharks as well as jungle, garden and play areas for the little ones.
La Reserva
A nature reserve in the mountains near Puigpunyent covering 2.5 million m2, there's endless entertainment here: walking trails, lush vegetation, waterfalls, barbecue areas, a mountain swimming pool and an adventure park among others.
Activities for adults
Hikes
There are plenty of great hikes all along the Tramuntana mountains. The GR221 is a footpath that runs the length of the mountain range, from Andtratx to Pollensa, passing through Estellencs. The Estellencs to Banyalbufar section takes around 2.5 hours one way.
Another good but challenging walk is the climb to the top of the Galatazo peak. It takes around two hours to climb but is very steep so not suitable for children.
Cycling
Both mountain biking and road cycling are extremely popular in Mallorca, especially in the mountains where there is no shortage of bends and hills, and spectacular vistas in every direction.
Nearby villages
All the villages in the Tramuntana mountains are picturesque and fun to wander around, so you can easily spend a day or two exploring these villages. Some favourites include Valldemossa, Deia, Fornalutx, Caimari, Moscari and Soller.
Lluc Monastery
If the summer heat is too much to bear, head up to Lluc a monastery high in the mountains where the air is always cooler. The large complex features restaurants, gardens, a pool and walking trails, as well as the chapel and former monks' cells.
Boat trips
During the summer months there are numerous boats that take guests on trips along the coast to hidden beaches and caves, with stops for swimming and snorkelling along the way. From Port de Soller boat trips go to the impressive Sa Calobra at the mouth of the Torrent de Pareis gorge. From Santa Ponsa one can take a snorkel or dive trip out to the marine reserve. From Peguera several boats will take you for full or half day trips along the coast.
The Area
Mallorca's Tramuntana mountain range, declared a UNESCO World Heritage Site in 2011, runs along the island's northwest coast for almost 90km. Steep, rugged and cloaked in pine forest in areas, the mountains descend directly into the sea on the western side creating dramatic scenery.
Tucked into the green folds of these mountains are picturesque villages and around them terraced hillsides where olives, oranges and lemons grow in abundance.
The southernmost of these villages is Estellencs, not much more than a cluster of stone houses wedged between impossibly steep mountains on one side, and the Mediterranean Sea on the other.
Only about 300 souls call this remote mountain village home, so the village itself has little in the way of services (just a few small hotels and restaurants, open in summer) but plenty in terms of scenery, the sound of cicadas and the scent of pines and jasmine in the air.
Below the village is a small pebble beach where the rocky seabed makes the water particularly clear and inviting. For larger, sandier beaches you'll have to venture further field, but if your preference is walking, cycling or exploring the picturesque villages, these mountains will leave you spoiled for choice.
A place to enjoy nature, the Tramuntana mountains feature numerous hiking trails that take one along the coast, down steep gorges or around lakes, whilst the winding paved roads and stunning views attract thousands of cyclists every year.
The nearest supermarket in Andratx is 20 minutes away, the capital, Palma, is about 45 minutes away, and the airport about ten minutes beyond city.