Being surrounded by water is natural for babies – after all they spent quite some time swimming before we even met them! Starting to learn these skills at an early age is very beneficial to them and is a very nice activity for mum or dad to enjoy with their little one.
So I was very happy to find this brand new place in town (it opened its doors last year in September) and I take my little daughter every week to this fabulous swimming class, which I thought would be nice to share on my blog.
Penguins created this innovative and beautiful space dedicated to aquatic activities with facilities specifically designed for babies, children and pregnant women. Everything has been thought through so the swimming class experience turns out as comfortable as possible for parents and babies. There are different play areas and high chairs wherever one might need them to get changed or to have a shower.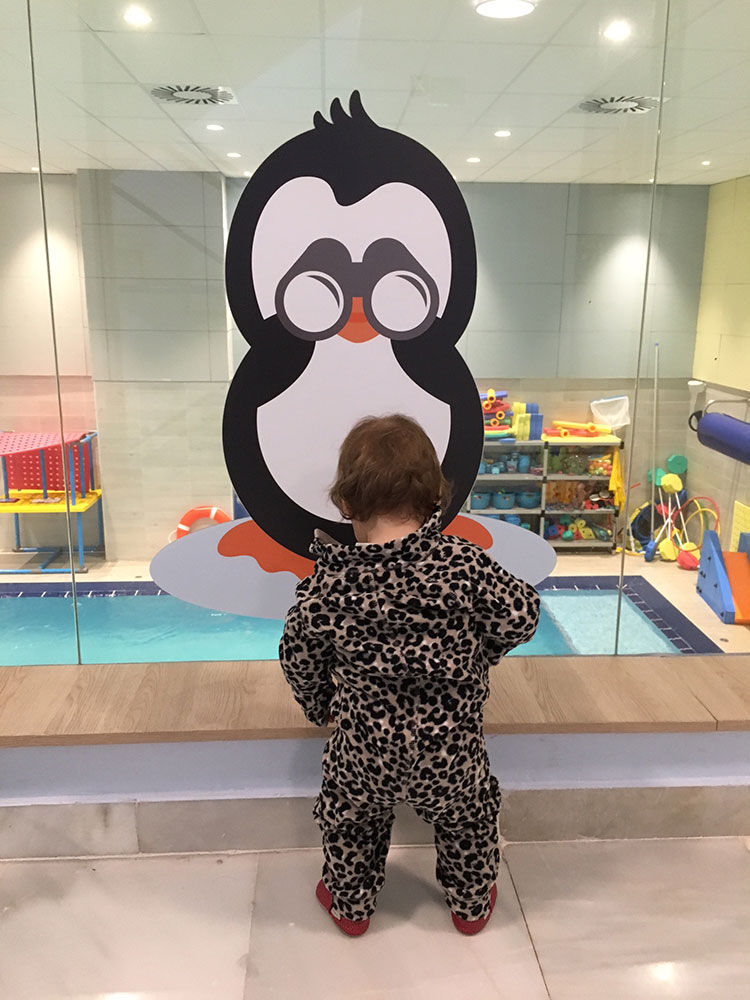 The unique swimming pool of crystal clear water is safe for babies with its efficient salt treatment technology and without chlorine odour. There is also a small cafeteria where they offer healthy organic snacks and drinks.
Founder Ana Llaudet travelled the world to get to know and combine the best methods and ideas from different swimming schools and decided to incorporate the innovative and effective method from Linnea Simskola (Imagine Swimming) and from leading swimming schools in Sweden and the United States.
She says:
"We use the child's imagination to generate positive emotional responses. We introduce music in our classes: it improves the neurological processes involved in the integration of physical skills. We use creative and educational material to make the most of each moment in water. We offer on-going trainings to all team members, so that they can continuously improve and gain new experience."
Classes are held in Spanish and English.
Besides swimming classes, they also offer other classes such as music classes for babies.
I highly recommend this place!
Please browse their website (www.penguinsbarcelona.com) for further information or contact Ana directly under: 630 427 104