For the second time this year, the world is holding its breath as everything has changed again within a very short time.
But if there is one thing we have learned during this pandemic, it's how important it is to slow down and to enjoy the important role nature plays in our lives. And, if you have young children like me, how crucial it is to find some well-deserved "alone time".
Like many other people, this year our summer holidays were more improvised than usual. We decided to travel to the beautiful region of South Tyrol, where we found wonderful opportunities to rest, enjoy nature, and take some time to ourselves.
Our first stop brought us to a breath-taking spot at an altitude of over 1,200m: The South Tyrolean Nature Resort.
This property is an ideal destination for any time of year and is without doubt one of the most family-friendly places we have ever stayed at. My kids fell in love with the wood workshop, the art studio, the indoor mudroom, the play barn, the large outdoor space and most of all the unbelievable waterpark with its own 100 m waterslide. What I really loved was that the afternoons from 4 – 6 p.m. were strictly reserved for family time (without supervised child care) and the resort organised activities for families like baking bread together or going on treasure hunts.
The next place we discovered was located very close to Bolzano, where endless vineyards meet the imposing outline of the Dolomites to form a beautiful, unique landscape.
This hidden gem, The South Tyrolean Art Nouveau Hotel, has been a family run business for 4 generations now and has a strong emphasis on being a sustainable, family-friendly haven. The hotel features a great kids club with a varied childcare programme 7 days a week (for kids aged 3 and up), state-of-the-art spa facilities, award-winning cuisine and lots of activities at and around the hotel, from tennis lessons to group hikes.
Our third and last family-friendly discovery was located in the beautiful Pustertal Valley, not too far from Brixen. At The South Tyrolean Panorama Retreat there are plenty of activities designed for families and kids. The hotel does not offer childcare on-site as it is all about families making experiences together, and this is exactly what we did there. Those who follow us on Instagram might have seen my son on the giant swing, which was for sure a once-in-a-lifetime experience.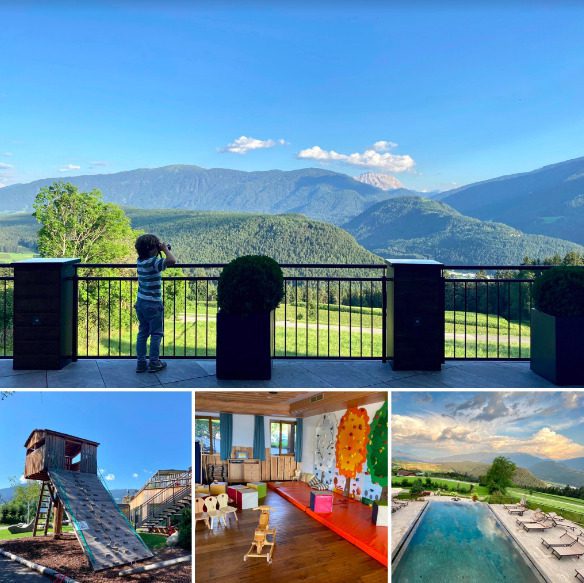 This year travelling has become more unpredictable and challenging, but one thing is for sure: I will never forget the feeling of freedom I felt once we overcame the fear of travelling and got to enjoy our holidays in this beautiful part of the world.
I know planning a holiday might feel scary with everything that is going on but please know we are here to help and guide you, so you can find suitable and safe holidays for you and your family. Booking conditions have changed for all our properties and cancellation policies are adapted to the current situation to make sure travelling will be carefree and possible in 2021.
Please contact us anytime if you´d like to plan on something to look forward to!
Have a lovely autumn time!
Ilonka & The Little Voyager team