Availability
We are sorry, this accommodation is not available to book at the moment
General
The Catalan Farmhouse
is a centuries-old property in the Alt Empordà area ideal for several families
---
Total capacity:
Sleeps up to 16 in 5 bedrooms
Useful things to know:
Playroom with a selection of toys, books, drawing material and a pool table
Garden with table tennis, swing and hammock
Small protected outdoor pool (4 x 2m)
BBQ and outdoor dining area
20-30 minutes from several beaches
Nearest airport is Girona (30 mins away)
About a 1,5 hour's drive north of Barcelona
Hire car is recommended
Important: There are some quite steep stairs in the house. Most are secure but the top floor ones do present some risk for very young children. The property is therefore suitable for parents with small babies (non crawling) or children age 4 and above.
---
This renovated Catalan farmhouse maintains all the rustic charm of a historic country home, whilst providing modern comforts and tasteful decoration. Exposed beams and stone walls, vaulted ceilings and period furniture lend it authentic charm, and the fitted kitchen, high speed WiFi and central heating ensure convenience and entertainment.
Spread across three floors, the house comprises 5 individually decorated bedrooms: four are doubles and one has an additional bed (so sleeps 4), the fifth room is a bunk room with space for 6 little ones. Three bathrooms – two with bath and shower, one with shower only – are shared by all.
This beautiful property has plenty of space both to get together and also to find a quiet spot, whether indoors or outdoors: younger kids love the playroom with its games, art supplies and books, older kids may prefer to play pool or watch movies on the 52" TV; adults can gather around the log burner in the cosy living room and the whole family can enjoy meals together in the dining room.
Outside, a good size enclosed garden with lawn, various trees and children's swing offers space to run around and to rest. Those who want to relax will find a hammock and a sun terrace, whilst the more energetic can fire up the barbecue or play a game of table tennis.
Check-in time
18:00
Check-out time
11:00
Minimum Stay
Please note there is a 2 night minimum stay during low season and a 5 night minimum stay in August.
Prices from
Rates: 360 Euros per night from September to June and 390 Euros per night in July and August. Prices on holidays may vary.  We are happy to send you the exact prices individually.
Cleaning fee per stay: 140 Euros
Tourist tax per night&adult: 1 Euro
A refundable 250 Euro damages deposit is requested by the owner which is refunded within 7 days from the end of your stay, subject to inspection.
Rates might vary according to season. Please contact us for a precise quote.
Deposits / Cancellations
A deposit of 50% of the total fee is payable upon confirmation of booking with the balance due 1 week prior to arrival.
Cancellation policy:
If you cancel up to 30 days before arrival you will receive a full refund.
If you cancel up to 7 days prior to arrival you will receive a 50% refund (minus service fees).
If you cancel less than 7 days before the stay you will not receive a refund.
Pets
Pets are not allowed.
Facilities
Basic items for cooking (salt & pepper, oil, spices)
Bathtub
BBQ
Coffee Machine
Dishwasher
Dishwasher tablets
Fire place
Hairdryer
Heating
Iron & ironing board
Music system
Outdoor pool
Outdoor space
Playroom
Refrigerator
Restaurants close-by
Seating area
Shops close-by
Toaster
Towels
WiFi
Our Reviews
Gilda Beraha and her family stayed at the Catalan Farmhouse in August 2018:
"Excelente trato. Atención minuciosa a mis necesidades como familia. Ilonka no sólo resolvió mis vacaciones cuando le solicite opciones en último momento, sino que nos recomendó un destino precioso que era todo lo que necesitábamos.
Nos alejamos en una casa encantadora, en un pueblo rural cerca de Figueres; perfecta para niños pequeños, medianos, adolescentes y adultos... a la medida de mi familia!
La verdad es que las vacaciones fueron estupendas y agradezco mucho el mimo y atención de Ilonka"
Room 1
This room is located on the first floor and has one double bed and space for a cot.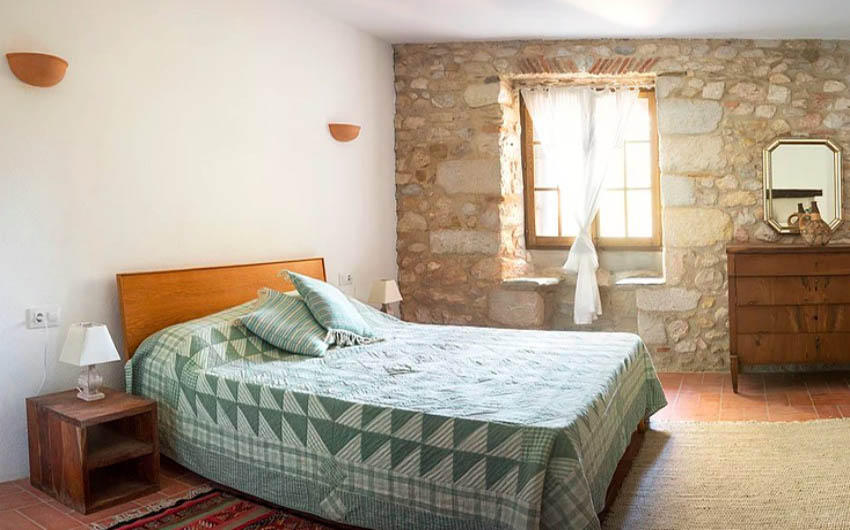 Room 2
This room is located on the first floor and has one double bed with en suite bathroom.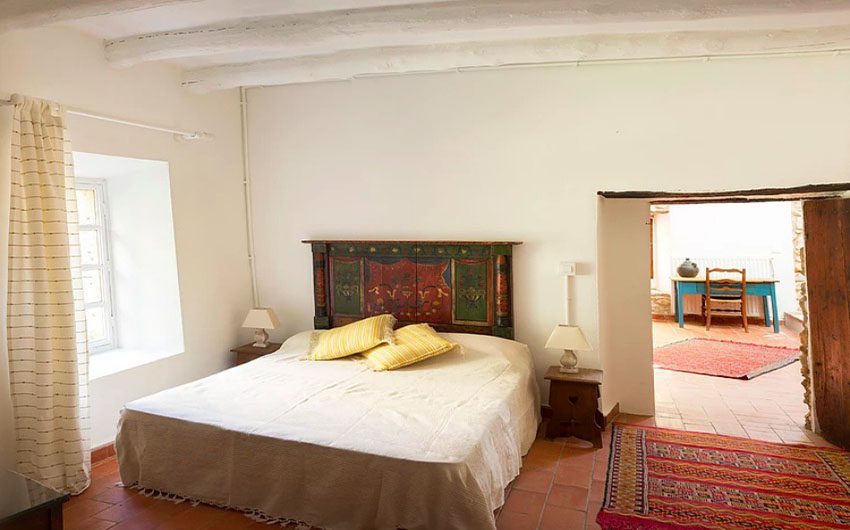 Room 3
Children's room located on the first floor with two bunk beds plus two additional pull-out beds (it can fit up to 6 children).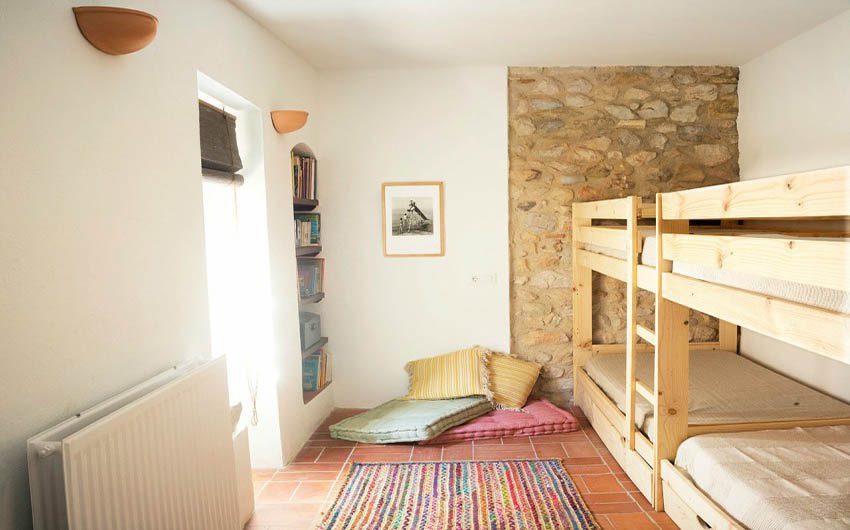 Room 4
This room is located on the second floor and has one double bed and a comfortable double sofa bed (sleeps up to 4).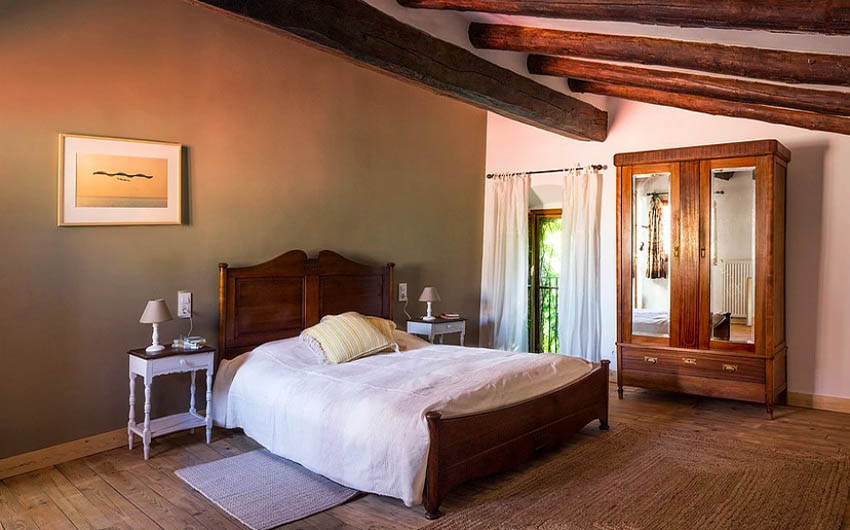 Room 5
This room is located on the second floor and has one double bed. This room shares a bathroom with Room 4.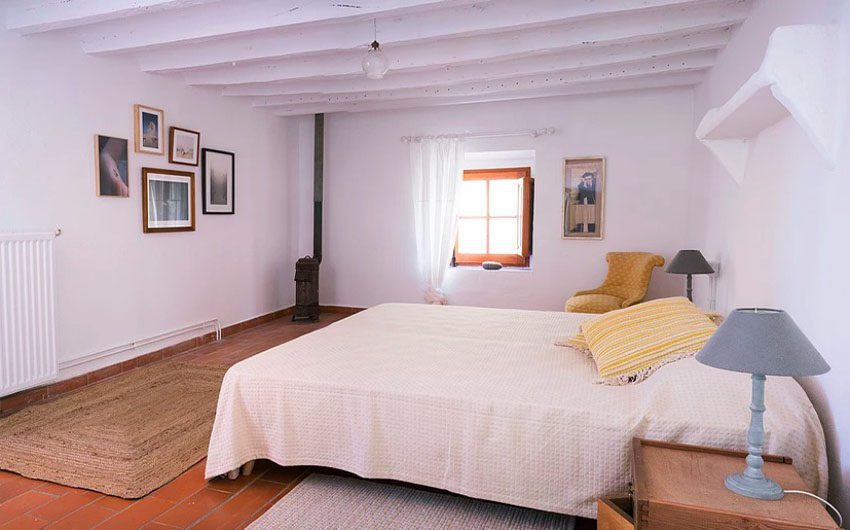 No items available

High chair
Dishwasher
Baby cutlery & tableware

Indoor toys & books
Outdoor area with games & toys
Playground nearby

No items available

Stair gates (not in the entire house)

Washing machine
Laundry service
Cleaning service
Toddler step
Shopping possibilities nearby
Activities for kids
At the House
Because the guesthouse is rented out by a family with children of their own there are plenty of toys and games on the property including a great playroom with books & toys, a snooker table, a ping pong table and a swing in the garden.
In the Village
There's a pleasant square in front of the church where families mingle, and the school's football pitch and basketball court are open to the public.
Beaches
Several of the beaches along the Costa Brava - Roses, Empuribrava, Llançà, Culera and Port de la Selva can be reached in around 30 minutes. Near Llançà, the restaurant Chez Louisette is a great place to eat before or after a few hours in the sun.
Kayaking and Paddle boarding
The Mediterranean Sea is a perfect playground for a variety of water sports, some of the most relaxing and family-friendly options being a gentle kayak or paddle board along the coast.
Walks
There are some easy walks in and around the village. A little further afield are two nature reserves: Aiguamolls is a large wetland that attracts lots of wildlife, particularly aquatic birds, and has various easy flat trails to follow.
Cap de Creus, located on the coast, is a mix of cliffs, hidden coves, small islands, forests and meadows. The walks here are hilly and steep but the reward is in the spectacular views.
Toy Museum, Figueres
This child-friendly museum takes visitors on a journey through the history of toys, from simple cardboard animals and spinning tops to miniature steam engines and scooters, some of which belonged to famous Spanish personalities.
Activities for adults
Market
The colourful Figueres market takes place every Tuesday, Thursday and Saturday morning and spreads across two squares: Plaça del Gra and Plaça Catalunya. You'll find a wide selection of fresh fruits, vegetables, herbs and more.
Winery Tours
Numerous vineyards and wineries in the region offer tours and tastings. Some of the recommended ones include: Palau Saverdera, Pau, Vilajuïga, Garriguella, Espolla, Rabós and Capmany.
Dali Museum
The most famous attraction in Figueres is without doubt the Salvador Dali Theatre-Museum. Designed by the artist himself, it features an extended collection of his work, including pieces such as The Spectrum of Sex Appeal, The Bread Basket and Galatea of the Spheres.
Cadaques
The pretty whitewashed town of Cadaques, situated on a shimmering bay, is always worth a visit. Wander the narrow streets, sip cold drinks at the water's edge, watch boats bobbing in the harbour, and visit the former home of Salvador Dali.
Medieval Villages
This region of Catalonia is scattered with picturesque medieval villages that are ideal to explore on foot or by bike. Sample the wines of the area and indulge in the local cuisine, as you relax in one of the many shady squares.
The village of Besalu, which dates back more than 1,000 years is particularly worth a visit. One of the best-preserved medieval villages in the region, it is atmospheric and quaint. Wander through the cobbled streets admiring the artistic details on the buildings, cross the impressive 11th century bridge and pop into the quirky museum of miniatures.
The small market town of La Bisbal is best know for its ceramics and antiques shops, so is a good place to pick up a souvenir or two. Several of the pottery workshops open their doors allowing visitors to watch the artisans at work. The town also boasts an 11th century castle and various other historic buildings all of which can be visited on a self-guided tour.
Nature
The guest house is surrounded by picturesque countryside and two nearby reserves offer stunning scenery.
Unique vegetation and unusual rock formations can be seen at the volcanic La Garrotxa reserve. The mountainous terrain is great for walking and features volcanic peaks, lava outcroppings and forests of oak and beech trees. en.turismegarrotxa.com
The natural park of Aiguamolls, situated between the rivers Muga and Fluvia, forms part of the Bay of Roses. Once a vast area of swampland, much of it was drained to create agricultural land in the 19th century. The remaining marshes, dunes and lakes were designated a natural park in 1983 and there are various walking trails you can follow. With over 300 species of birds living permanently or migrating through this area it is a birdwatchers paradise. You may also see deer, foxes, otters and various amphibians.
Girona
For a dose of city life, Girona can be easily visited in a day.
Walk along the top of the city's medieval walls for a bird's eye view of the old town, visit one the best preserved Jewish quarters in Spain and admire the baroque façade of the cathedral, or simply stroll through the narrow streets and down to the river.
The Film Museum (Museu del Cinema) is well worth a visit for anyone interested in the history of film. Displays chart the progress and development of moving images over the course of 100 years, and include lots of movie paraphernalia. www.museudelcinema.org
The Area
The farmhouse is located in a tiny but very picturesque village in the Alt Emporda region of Catalonia. The cluster of houses and the church were built in the 17th and 18th centuries and have been well restored and maintained.
The village itself is friendly and safe, and surrounding it are wheat fields and flat land ideal for gentle walks and bike rides. It has a few basic services, including a bar/restaurant with a small playground next to it.
The dramatic backdrop of the Pyrenees is easily visible to the north, being just 30 minutes from the border with France.
The town of Figueres – best known for being the birthplace of Salvador Dali – is 10 minutes away by car.