Availability
Please contact us for more information about availability
General
The Austrian Countryside Chalets
are an ideal destination for nature and animal lovers.                     .
Total capacity:
8 independent chalets that can accommodate up to 14 guests
7 holiday apartments that can accommodate up to 6 guests
1 double room that can accommodate up to 3 guests
Useful things to know:
The closest airport is Salzburg (1 hour away by car). The German city of Munich is a 2-hours drive away.
The closest town is only a short walk from the chalets.
The holiday village is made of modern and spacious wooden chalets (between 96 and 175 m²) that have their own gardens, outdoor bathtubs, saunas and fireplaces for private use.
The apartments (between 20 and 55 m²) have beautiful mountain views and rustic wood interiors, as well as a shared sauna and wellness area in the main house.
Children will enjoy the petting zoo as well as the many different animals that live on the property such as calves, goats, ponies, hens, rabbits and cats.
There are plenty of outdoor activities for both children and adults all year around, both at the property itself and in the beautiful surrounding areas.
In July and August your hosts offer complimentary childcare for children aged 4 and older. Childcare for younger kids can be arranged at an extra charge.
Breakfast rolls and pastries are included in the rental price. Guests can also order a variety of regional specialities.
Guests can chose to prepare their own meals in the chalets' and apartments' fully equipped kitchens or use the property's catering service, which includes fondues and barbecues.
Different massages and beauty treatments can be booked and enjoyed in the comfort of the private chalets.
Bikes/E-bikes and sled rental is available on site.
---
Set up as a small village, the Austrian Countryside Chalets are a family-run holiday destination perfect for nature and animal lovers. The chalets are partly made from timber from the surrounding forests, and all have modern, cosy facilities.
The chalets are ideal for families that want a bit of extra space or for families travelling together – the largest one can accommodate up to 14 guests. Each chalet has a private fenced garden with an outdoor bathtub as well as a sauna and a relaxation room. They all feature fireplaces.
The apartments are located in the main house and offer beautiful mountain views from their balconies and terraces. They have wooden interiors and share a communal sauna and wellness area. These are suitable for families with up to 6 people.
Children will not have time to get bored here! Activities include pony riding, spending a night in the stables, racing around the grounds on go-karts and pedal tractors, jumping on the trampoline, playing in the forest or playground and baking bread on a stick over the campfire. Children will also enjoy the animals on the property, both at the petting zoo and running freely around the grounds.
The winter months also offer lots of fun and adventurous activities: kids can participate in organized night hikes with torches, play in the children's' playroom, take the ski lift right next to the property free of charge to go up to the beginner slopes, use the sledding and tobogganing areas or go ice-skating close by.
And while the children are out and about having fun, adults can choose from a wide range of outdoor activities the region has to offer, including hiking, cycling, horseback riding and skiing. After a long day outside, guests can return to relax in their own private spa at their chalet or in the common wellness area. Additional massages and beauty treatments are also available (with pre-booking).
Guests can order a tasty breakfast basket delivered each morning or enjoy the breakfast buffet served in the main building. The kitchens in the chalets and also in the apartments are fully equipped, but the property also offers catering services that include regional specialities, fondues and barbecues.
Recent News:
Finally some light at the end of the tunnel…
12th June 2020: Now that travel restrictions are gradually lifting and travel will be possible again, travelling is not only about what is allowed but also about what feels right. Visit our latest news post to show you where you can travel.
Prices from
Apartments
Rates range between 115€ and 215€ per night in an apartment (depending on the season and the accommodation type).
The specified prices apply to the apartment per night with an occupancy of 2-4 persons (depending on the apartent), excluding visitor's tax. For each additional person an additional 10€ per night are charged.
Prices include: Daily fresh breakfast rolls, welcome snacks and much more.
Not included in the price: final cleaning fee of € 60 – will only be charged for short stays of less than 4 nights.
Chalets
Rates range between 350€ and 1.130€ per night in a chalet (depending on the season and the accommodation type).
The specified prices apply to the chalet per night with an occupancy of 4 persons, excluding visitor's tax. For each additional person an additional 25€ per night are charged. Children under the age of 6 years are free of charge. The chalet can also be booked by 2 persons. Prices on demand.
Prices include: Daily fresh breakfast rolls, welcome snacks and much more.
Not included in the price: final cleaning fee of 230€.
Deposits / Cancellations
A deposit of 20% is due to secure the booking. The remaining amount is due at the property, at check-out. Cancellations are free of charge up to 90 days before arrival. If you cancel, the paid amount will be used towards a future booking.
Pets
Pets are welcome at the property. One dog is free of charge in the low season (second dog on request). High season price per pet/night: Chalet: € 15, apartment: € 10.
Facilities
Babysitting
Barbecue area
Big trampoline
Bike rental on site
Games room
Heating
In-room dining service available
Outdoor play areas for children
Outdoor playgrounds
Outdoor playhouse for kids
Outdoor space
Parking
Petting animals
Picnic accessories
Picnic areas
Playground for kids
Playroom for kids
Sandpit
Sauna
Spacious gardens
Stunning view
Sun loungers
Washing machine and dryer (for an extra charge)
Wellness
WiFi
Our Reviews
Lymore H. stayed at the Austrian Countryside Chalets with her familiy in October 2022:"I wanted to let you know that the property was perfect. We loved it and my girls did not want to leave. They woke up every morning at 6.45 to have time to be with the animals before we headed out for our day. The staff was amazing. The bread delivery each morning was a treat and woody's playground was a huge success. Thanks so much for your help and for bringing this place to our attention. We loved it!"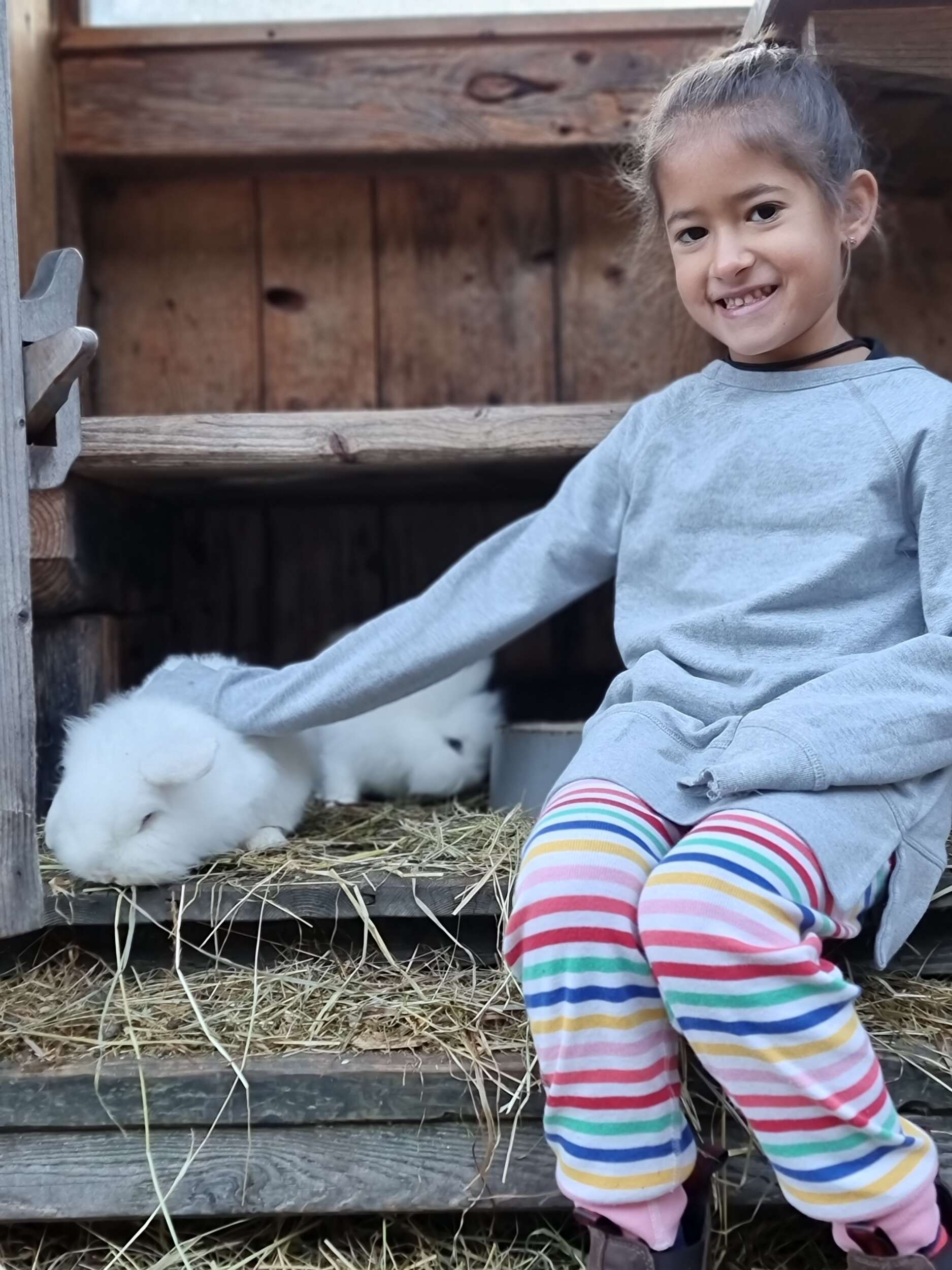 The Area
The property is located south of Salzburg, in the beautiful valley of Grossarl, where you will be able to enjoy breath-taking views and lots of outdoor fun. During the summer months, mountain farmers let their livestock graze the valley's peaceful meadows, which are a good starting point for hiking, mountain biking or horseback riding.
In winter time, the holiday village is ideally located right on the ski slopes, next to one of Austria's largest ski regions, with over 860 km of ski slopes and 270 ski lifts. Besides skiing, the area around the property offers cross-country skiing paths as well as designated areas for kids to have fun sledding and tobogganing.
The beautiful city of Salzburg, famous for being Mozart's birthplace and definitely worth a visit, is only an hour away by car.